How often should I use it?
We recommend you apply the YU Moisture Serum once per day, preferably at night. Although if you want to get even faster results, then you can apply it 2-3 times per day.

We find that our top success stories came from women who used the Serum once in the morning and once at night, just like the women of Korea do.
Is it doctor recommended?
Absolutely! YU Moisture Serum has been tested and approved by multiple doctors, dermatologists and skin care experts, and is highly recommended by all. It's manufactured using certified organic ingredients, formulated in an FDA-registered facility and created by an ex-formulator for Loreal.
What if it doesn't work for me?
In the unlikely event that YU Moisture Serum doesn't work for you, just let us know within 180 days and you'll receive a full and immediate refund. Even if your bottle is completely empty, you'll still get a 100% refund.
How long will it take before I begin to feel the benefits?
This is different for everyone. Some of our customers experience the benefits in as little as 2-3 days, while others find that it may take a few weeks.
What's inside the serum?
For a full list of our ingredients, just take a look at the label below: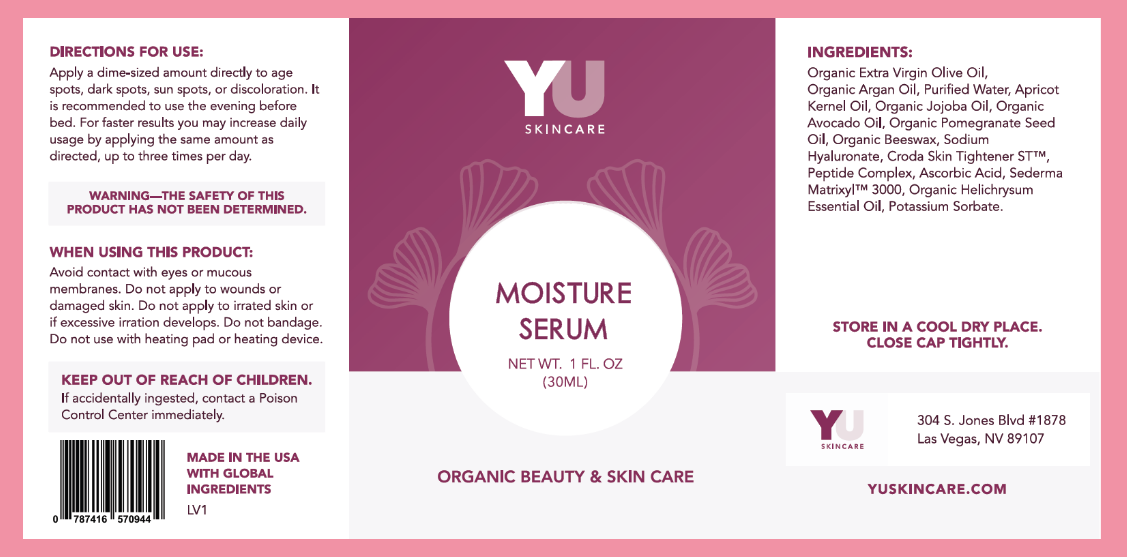 How many bottles should I buy?
If this is your first time buying with us, we recommend buying either one or three bottles so you can try it out.

And if you're a repeat customer, we recommend buying three to six bottles so you can stock up at a discount and have plenty of bottles to give to your friends and family.
How do I get started?
That's the BEST part. Just click on one of the links above or below, choose the option that is best for you.

You'll then be taken to a secure order form where you can take 60 seconds to enter your credit card information.

And then we'll get your bottles of YU Moisture Serum into first class shipping within one business day.
Are there any side effects?
Nope! Since we use only certified organic ingredients, there are zero side effects with the serum.